Water Treatment Flocculant Mangfloc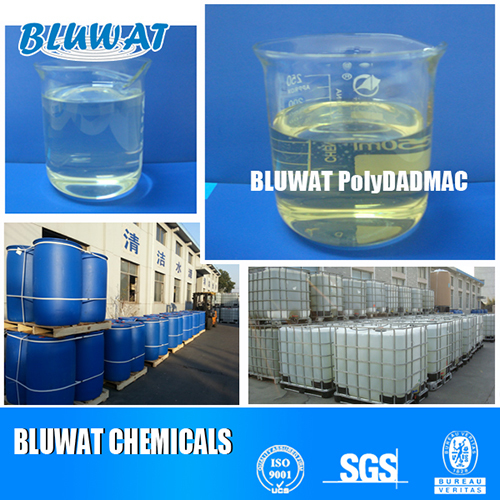 Water Treatment Flocculant Mangfloc
Price And Quantity
Ton/Tons

900.00 - 1300.00 USD ($)
Product Description
Recognized as a renowned entity in this domain, we are engrossed in providing quality checked Water Treatment Flocculant Mangfloc. Offered product is used for treating domestic and industrial water by removing harmful or unwanted contaminants. Also, it helps to increase the viscosity of water. This product is painstakingly processed using quality proven chemicals and advanced methodology. Also, we provide this Water Treatment Flocculant Mangfloc in air tight packaging options at suitable prices.
Key points:
Free from impurities
Standard life
Safe to use
High water solubility
Water Treatment Flocculant Mangfloc PolyDADMAC
Bluwat Polyamine:

Trade Name:

Blu DA40 Series (Equivalent to Ultrafloc, Magnafloc LT Series)

Active Ingredient:

Quaternary ammonium salt cationic surfactant

Chemical Name:

PDADMAC / PDMDAAC / Poly diallyl dimethyl ammonium chloride

CAS No.:

26062-79-3

Standard:

Company

Brand:

Blufloc

Certification:

ISO, SGS

MOQ:

500kgs

Port of Loading:

Shanghai Port, China

Delivery Time:

Within 10 Working Days After Got Your Payment

Package:

Packed in 25L, 200L, 1000L drums

Applications:

Water treatment, paper making, sludge dewatering, textile, sugar and juice, drilling, oil & gas, mining .

Sample:

Free to test

Polyamine Specifications:

Appearance:

Colorless to Slight Yellow Liquid, Transparent Colloid

Ionic Charge:

Cationic

Molecular Weight:

Low to very high

Solid Content:

40%

Approximate Brookfield Viscosity at 25 C:

200-80000cps

Active Content:

100%

Specific Gravity at 25C:

1.01-1.10

PH (1% aqua solution):

3 - 7
What is PolyDADMAC?
PolyDADMAC is liquid cationic polymer of different molecular weight which work efficiently as primary coagulants and charge neutralization agents in liquid-solid separation processes in a wide variety of industries. Mainly used in the paper-making, textile dyeing and finishing process .
This product is cationic quaternary ammonium based polymer, a colorless to pale yellow viscous liquid. It is soluble in water, safe, non-toxic, hydrolytic stability, and good adaptability to the changes in pH value.
In drilling filed, we call it as antiy-clay swelling agent or clay stabilizer, it is also compatible with fracturing and acidizing fluids.
Formation permeability damage reduces the productivity of oil reservoirs. One of the damages was caused by clay deflocculating and migration. Without adequate protection, some waterbase fluids can affect the electrical charge of naturally occurring clay platelets in the formation. Clay stabilizers act to retain the clay platelets in position by controlling the charge and electrolytic characteristics of the treatment fluid.
Polymer is absorbed on the surfaces of drill cuttings and the borehole wall. The encap- sulation of drilled solids promotes flocculation and minimizes disintegration and disper-sion. These larger cuttings are carried to the surface and more effectively removed by solids control equipment. The adsorption of polymer on the borehole wall enhances the stability of sensitive formations (salt, clay, ...)
Applications of PolyDADMAC:
Water treatment (drinking and waste-water)
Textiles effluent decolorant
Mining (coal, gold, diamonds etc.)
Sugar and juice decolorant
Paper-making
Oil industry
Blend with other inorganic or organic polymers, such as ACH, PAC PFS etc..
Package and Storage:
It is harmless, no-flammable and non-explosive, it can be stored at room temperature, it can not be placed in the sun.
It is packaged in plastic drums with each containing 25kg, 210kg, 1100kg , or others according to the requirements of clients.
Storage temperature: 5-30C.
The product would show slightly stratification or appear white at low temperature. There is no negative impact on the performance after mixing up.