Waste Water Decoloring Agent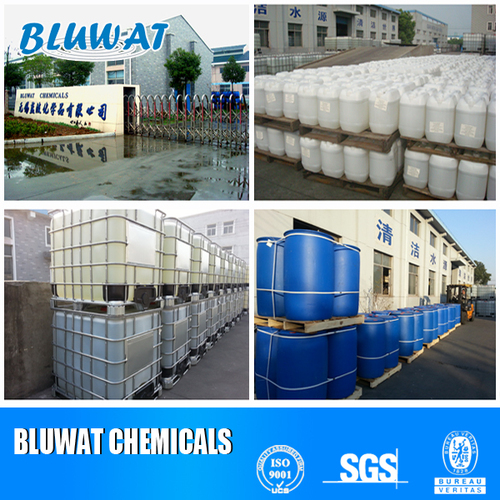 Waste Water Decoloring Agent
Price And Quantity
Kilograms/Kilograms

0.50 - 0.80 USD ($)
Product Description
We have gained expertise in manufacturing and exporting Waste Water Decoloring Agent. The offered chemicals are widely used in water treatment plants and paper mills as these are suitable for decoloring and dyeing materials. Reputed vendors of the market supply us with quality ingredients, which are used to formulate pure and quality chemicals. The Waste Water Decoloring Agent is offered at an affordable price and delivered within a given time-frame.
Technical Specifications:
Solid content: 50%min
Light-color, sticky liquid
Decolouring agent
For textile, dyeing industries
Cationic Polymer.

Water Decoloring Agent is used for de-colouring in industrial application.

Water Decoloring Agent's Features:


Water Decoloring Agent is Quaternary cationic polymer
Application for Water Decoloring Agent:
Decoloration, flocculation, COD minimizing.Commonly used for color separation from waste water discharged from dyestuff plants, suitable for treating industrial waste water with assurance of better water quality. Is also used to clean up waste water discharged from textile & printing industries and dye & pigment houses and paper industry.
Appearance: light-color, sticky liquid
Viscosity: 50 - 250mPa.s (20C)
Solid content: >50%
PH 30% solution: 3 - 5
Specific gravity: 1.2 - 1.3 (25C)
Harmless, no-flammable
Water Decoloring Agent's usage:
Water Decoloring Agent is widely approved to treat waste water through diluting in small amount of water, and then added directly to waste water. Mixing for a couple of minutes, waste is evaporated out of the water to become clean and clear.Ph value of the waste water must be accommodated close to 7 - 10 for good quality of water.

BWD-01 Water Decoloring Agent Application Fields:

Water Decoloring Agent is primarily applied for color peeling treatment for waste water with high level of color engendered by dissolved organic matter from dyestuffs plants.
The agent is apt for treating waste water from removal of color and the other matter
It is suitable for treating waste water discharged from the textile & paper industries, dye & pigment houses and printing houses.
It is also used in the manufacturing of paper & pulp as a binding agent.
BWD-01 Water Decoloring Agent Application Methods:

The agent can be dissolved in water and subsequently added to the waste water directly. Subsequent to mixing for few minutes, it can be precipitated to become clear water.
The pH value of the waste water must be adapted to 7-10 for better quality.
When the color level and CODcr are comparatively high, it can be applied with the help of polyaluminum chloride, but should not be mixed together. Thus, the treatment cost goes down. Whether polyaluminum chloride is applied before or after wards depending on the flocculation test and the treatment process.
Packaging & Storing

It is innocuous, no-incendiary and noncombustible, it can be kept at room or normal temperature, it should not be exposed to the sun.
It is packed in plastic container with each storing 30kg, 250kg and 1250kgs.
Storage temperature: 10-30. By

Product Details:
| | |
| --- | --- |
| Classification | Chemical Auxiliary Agent |
| CAS No. | 55295-98-2 |
| Other Names | decolor |
| Purity | 50% |
| Place of Origin | Jiangsu, China (Mainland) |
| Type | Other |
| Usage | Paper Chemicals, Textile Auxiliary Agents, Water Treatment Chemicals |
| Brand Name | bluwat |
| Model Number | bwd-01 |
| liquid | lightness |