Pulp and paper making retention agent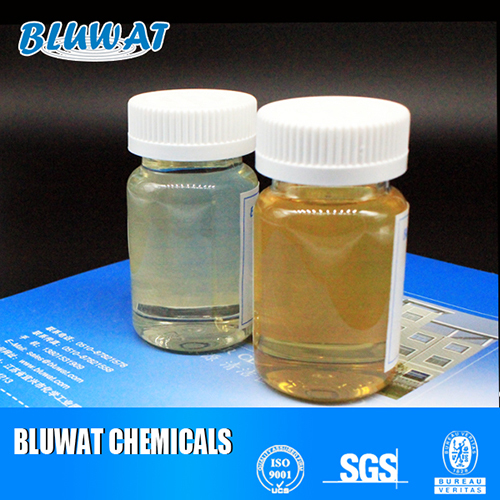 Pulp and paper making retention agent
Price And Quantity
Ton/Tons

900.00 - 1300.00 USD ($)
Product Description
Backed with rich industry and market knowledge, we are betrothed in providing quality checked Pulp and Paper Making Retention Agent. Having high cationic charged ions, the offered product is widely used in pulp and paper industries for improving drainage and retention of fine particles. With the help of our experienced professionals, this product is processed using ultramodern methodology. Buyers appreciate our Pulp and Paper Making Retention Agent owing to its balanced chemical composition and high purity.
Key points:
Helps to control anionic trash
Accurate pH level
Completely soluble in water
Enhanced shelf life
PolyDADMAC / PDMDAAC / PolyDMDAAC
For Pulp and paper making retention agent

What is PolyDADMAC?
Trade Name: Blu DA40 Series (Equivalent to Ultrafloc, Magnafloc LT Series)
Active Ingredient: Cationic Quartenary Amine Polymer
Chemical Name: PDADMAC / PDMDAAC / Poly diallyl dimethyl ammonium chloride
Chemical Family: PolyDADMAC
CAS No.: 26062-79-3
PolyDADMAC is liquid cationic polymer of different molecular weight which work efficiently as primary coagulants and charge neutralization agents in liquid-solid separation processes in a wide variety of industries. Mainly used in the water purification, paper-making, mining, oilfiled, and textile effluent treatment.
PolyDADMAC is used for controlling disturbing substances in the papermaking process. It provides superior fixing of pitch from mechanical pulp and of latex from coated broke. Used in the short circulation of a paper mill to enhance retention and dewatering. In addition, it can be used to improve the efficiency of disk filters and flotators, and for cationization of fillers to provide maximal filler retention.
What's the Applications of PolyDADMAC?
Water purification (drinking and waste-water)
Textiles
Mining (coal, gold, diamonds etc.)
Paper-making
Oil industry
Blend with other inorganic or organic polymers, such as ACH, PAC PFS etc..
Specifications:

Technical Name:

Polydimethyl-dislkelen-ammonium Chloride / PolyDADMAC/PDAMAC

Appearance:

Colorless, Transparent Colloid

Viscosity:

100cps-30000cps

Solid Content:

20%min.

PH (30% solution):

3 - 7

Ionic Nature:

Cationic

Specific Gravity:

About 1.1
Package and Storage:
It is harmless, no-flammable and non-explosive, it can be stored at room temperature, it can not be placed in the sun.
It is packaged in plastic drums with each containing 25kg, 210kg, 1100kg , or others ccording to the requirements of clients.
Storage temperature: 5-30C.
The product would show slightly stratification or appear white at low temperature. There is no negative impact on the performance after mixing up
We have more than 10 year experience and more than 10 engineers for production research and after-sales service, advanced lab equipments can satisfy your testing requirements.
Dedicated Customer Service Specialist to help guiding clients to use the products.
Regular detailed tracking reports keep customers updated on their application performance, to provide professional suggestions and solutions to help you get more benifits and cut down the cots. High Efficient Water Decoloring Agent for Textile, Paper, Dyestuff Plant