PHPA EOR for Oil Drilling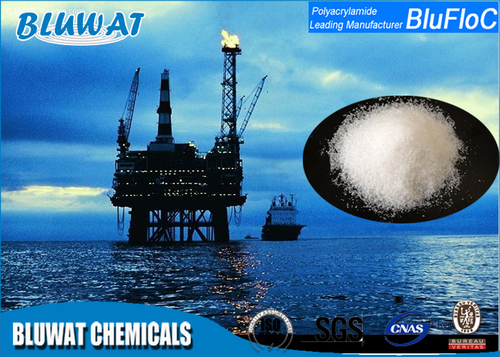 PHPA EOR for Oil Drilling
Price And Quantity
Metric Ton/Metric Tons

1000.00 - 3200.00 USD ($)
Product Description
We are counted among the topmost organizations that are engaged in manufacturing and exporting best quality PHPA EOR for Oil Drilling. The offered products are pure and effective, therefore used as petroleum additives, textile auxiliary agents and water treatment chemicals. All the parameters and norms laid in the industry are followed by our professionals to ensure high-grade end products. The PHPA EOR for Oil Drilling is available in many packaging options to meet demands of our clients.
BLUFLOC EOR SERIES
PHPA(Partially Hydrolyzed Polyacrylamide) Powder


DESCRIPTION:

BLUFLOC EOR SERIES is PHPA, manufactured with different molecular weight specially for EOR(Enhanced Oil Recovery) in oil field under new high-tech technology.

ADVANTAGES

This process has been used for several years in assisting oil field to increase the efficiency of oil recovery. By the addition of one ton of polymer typically 150 tons of crude oil can be gained therefore providing great benefits to the user. By introducing viscous polymer solutions to the flood, the efficiency of the volumetric sweep is increased, channeling and breakthrough is decreased thereby having the overall effect of increasing the oil recovered.

Our polymer suits many different conditions experienced by oilfield operators in polymer flooding so that no matter what the temperature, saline conditions, permeability or oil viscosity are, we have the correct product for the application. The standard products can be either directly injected into the oil stratum or alternatively can be combined with a cross-linking agent and then injected into the oil stratum. These products can be used at oilfields with an oil stratum temperature lower than 60C and total dissolved solids (TDS) lower than 6,000ppm.

APPLICATION:

To obtain homogeneous solution, efficient dispersion is necessary. The most convenient method of dispersing these products is with a polymer eductor or a commercially available dry powder feeder unit. Solution should be made up at 0.1-0.3% solid. Make-up water temperature should be between 10 and 40 for optimum product performance.
Following dispersion into agitated water, stirring should continue for about an hour to ensure complete dissolution. Stirring maybe carried out by propeller type stirrer with a speed of 200-500 rpm.
It is recommended to have both a stock make-up tank and a solution holding tank for dosage into the system.
The above recommended anionic solution concentration are stable for up to one week. Aluminum, zinc, copper, or iron should be avoided in make-up system.
TYPICAL PROPERTIES:


Specifications:

A1512

A5515

A6518

HAA6520

HAA7525

Molecular Weight:

Low

Medium

High

Very High

Ultra High

Charge Degree:

Low (15-20%)

Medium (25-40%)

High (30-35%)

Medium-High (30-35%)

High (35-40%)

Solid Content:

89% Minimum

Bulk Density:

About 0.8

Specific Gravity at 25C:

1.01-1.1

Intrinsic viscosity, dl/g:

10-25
| | |
| --- | --- |
| PACKAGE: | Packed in Kraft paper bags with inner plastic bags, with each bag containing 25kgs. |
| STORAGE: | Should be stored in original packaging in cool and dry place, away from sources of heat, flame and direct sunlight. Please refer Technical Data Sheet, Label or MSDS for more details and shelf life. |