Paper Water Recovery Polyaluminum Chloride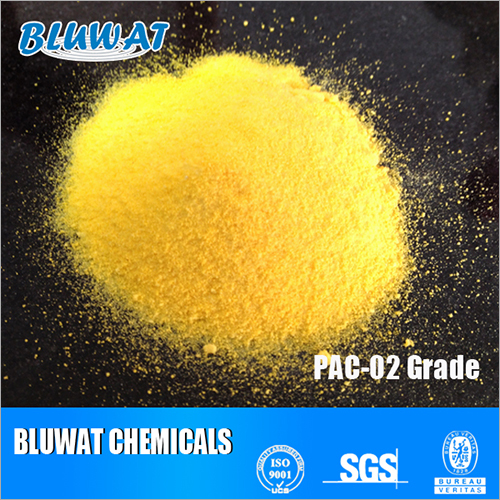 Paper Water Recovery Polyaluminum Chloride
Price And Quantity
Metric Ton/Metric Tons

400.00 - 500.00 USD ($)
Product Description
To become leading firm in this domain, we have been engaged in offering the best grade Paper Water Recovery Polyaluminum Chloride. This chemical is processed by our adept professionals with the aid of sophisticated methodology. The offered chemical is used for waste water treatment and paper sizing. The provided Paper Water Recovery Polyaluminum Chloride is available in several packaging options according to the demand of clients.
Key points:
Paper Water Recovery Polyaluminum Chloride
Product Name:

Polyaluminium Chloride (Poly Aluminum Chloirde, Polyaluminum Chloride, Poly Aluminium Chloirde, Aluminum Polychride, PAC )

CAS#:

1327-41-9

Appearance:

White and yellow powder

Description:

Poly aluminium chloride (PAC) is a new type high efficiency inorganic polymer coagulant, adopting advanced manufacturing technique and quality raw material, show the features of low impurity, high molecula weight, and superior coagulating effect.

BLUWAT produces different greades of Polyaluminum Chlorides (PAC) in powder and liquid forms. The highly charged Al in the products is optimized for best performance for the different basicities of PAC. The low to medium basicity products are effective coagulants for treatment of both drinking water and waste water. And the medium to high basicity products are excellent for all ranges of wastewater treatment.
Polyaluminium Chloride Main Properties:
Advantages:

Its dosage lower than aluminum sulfate (based on Al2O3) and water treatment cost is lower than other inorganic flocculants.
PAC can cause quick formation of flocs, big flocs formation and rapid precipitation. Its treatment capacity is 1.3-3.0 times of other inorganic flocculants.
PAC enjoys wide-range adaptability for different-temperature source water and a good solubility.
PAC is slightly corrosive and easy for operation.
The liquid PAC is suitable for automatic dosing. Furthermore, it will not block pipes over long-time usage.

Application Fields:

Purifying drinking water, sewage.
Industrial water purification, industrial wastewater, mining, oil field injection water, metallurgy, coal washing, leather and all kinds of chemical waste water treatment.
Industrial production: Paper sizing, dye printing, bleaching and dyeing, medicine and other industries.
In artificial coal industry, it is used for separating coal and water with excellent effect. In the oil refining industry, for oil and water separation.

Specifications:

Items

PAC-01

PAC-02

PAC-031

Appearance:

White Powder

Light Yellow Powder

Yellow Powder

Produce Process:

Spray dry process

Al2O3:

29

29

30

Basicity:

45.0~55.0

50.0~85.0

50.0~90.0

Insolubles:

0.5

0.5

1.0

PH

(1%water solution):

3.5~5.0

3.5~5.0

3.5~5.0

SO42-:

0.5

0.5

-

N % :

0.09

0.09

-

As % :

0.0003

0.0005

-

Mn % :

0.005

0.045

-

Cr6+ % :

0.0001

0.0015

-

Hg % :

0.00001

0.00002

-

Pb % :

0.003

0.006

-

Cd % :

0.0006

0.0006

-

Fe % :

0.005

0.05

-

PAC-01,White powder, spray dryer type, for drinking water treatment or paper production, raw material is Al(OH3).
PAC-02,Yellow powder, spray dryer type, for drinking water treatment or wastewater treatment, raw material is Al(OH3) .
PAC-031, Yellow powder, spay dryer type, for drinking water treatment or waster water treatment, raw material is Ca(AlO3)2 and bauxite.

Application Method:

The user can allocate remedy concentration by test and determine the optimum dosage according to different to be added after they are dissolved and diluted.
The dilution ratio of liquid product is 5-50%, and the dilution ratio of solid product is 2-20%.
The liquid product dosage is 3-40kg/1000 tons water, and solid product dosage is 1-15kg/1000 tons water.
The amount of specific dosing is based on coagulation tests and experiments.

Package & Storage:

Package in 25kg P.P woven bags with inner PE bag.
Storied indoors in a dry, ventilated, cool place, and do not get wet.
Shelf life: 2 years
When transport and loading and unloading the product, should be handled with care.
Our Services:
We have more than 10 year experience and more than 10 engineers for production research and after-sales service, advanced lab equipments can satisfy your testing requirements.
VIP Service

Dedicated Customer Service Specialist to help guiding clients to use the products.

Customer Care

Regular detailed tracking reports keep customers updated on their application performance, to provide professional suggestions and solutions to help you get more benifits and cut down the cots.