Nonionic Polyacrylamide Powder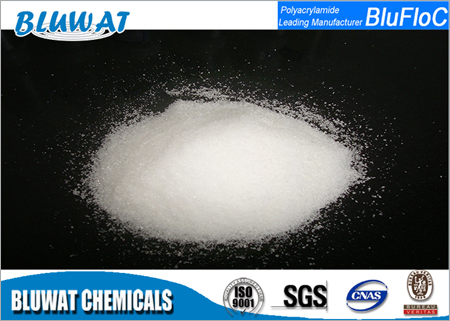 Nonionic Polyacrylamide Powder
Price And Quantity
Metric Ton/Metric Tons

1000.00 - 3000.00 USD ($)
Product Description
Nonionic Polyacrylamide Powder
Available in solid powder form, the Nonionic Polyacrylamide of BLUFLOC series is easily dissolvable polymer which is acknowledged for its low hydrolysis level. Its application can be noticed during treatment of sewage water, in textile and in paper industries.

Advantages
Due to its high efficacy rate, this chemical is used as essential part of flotation, mechanical dewatering, clarification and thickening purpose.
The offered chemical is compatible with different ph range(4-9).
High effectiveness regarding the treatment of acidic suspended waste water.
Helps to lower the suggested amount of inorganic coagulant
Assists to decrease sludge deposition rate
Useful for reducing operation cost of various treatment procedures
Improves passing rate of clarifier


Application Fields
Industry waste water treatment
Mining
Oil drilling
Paper-making
Sludge dewatering
Textile additive
TYPICAL PROPERTIES:

Products:

Solid content:

Effective pH:

Bulk Density:

Molecular Weight:

Charge Degree

N850

89% min

2.0-9.0

0.8-1.0

High

Low

N830

High

Very Low

N630

Low

Very Low
Application:

It is advised to prepare a solution by mixing this chemical in 0.1%-0.5% dosage before its application.

The prepared solution should be preserved in fiberglass, plastic and enamel made containers. Metal container should be avoided for its storage.

The proper amount of its application should depend on various test results of laboratory.

Package:

25kg Polybag
25 kg Paper bag
As your per requirements.

Storage:

It need to be preserved in a dry and cool area to keep the sources of flame, heat, humidity and sun rays at bay. Please go through technical data sheet, MSDS and label for further information and storage life.