High effective polymer liquid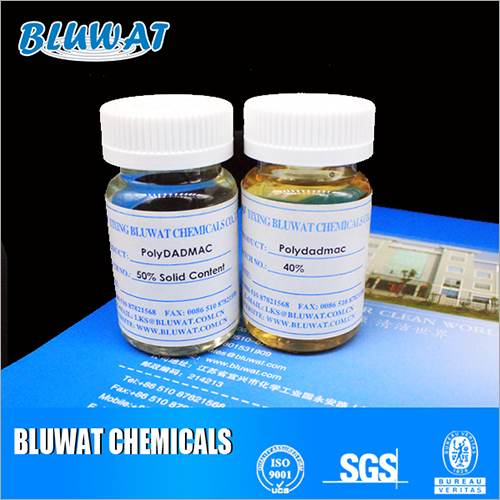 High effective polymer liquid
Price And Quantity
Ton/Tons

900.00 - 1300.00 USD ($)
Product Description
With an objective to achieve clients' satisfaction, we are engaged in providing highly effective Polymer Liquid. This product is processed with utmost care and thoroughness using balanced composition of chemical compounds and advanced methodology. Customers extensively use the offered product for the treatment of waste water to make it fit for further industrial processes. We put forth the provided Polymer Liquid to our esteemed patrons in proper packaging options at affordable prices.
Key points:
Standard shelf life
Acts as coagulant
Free from impurities
Soluble in water
PolyDADMAC / PDADMAC / PDMDAAC /
Poly Diallyl Dimethyl Ammonium Chloride
PolyDADMAC / PDADMAC / PDMDAAC / Poly diallyl dimethyl ammonium chloride
( CAS No.26062-79-3)
This product is cationic linear polymeric compound. It can be completely dissolved in the water.
BLUWAT PolyDADMAC Properties & Features:
This product is mainly used in the paper-making, textile dyeing and finishing process.
Neutralizes anionic trash in papermaking systems to enhance retention aid performance.
Safety, non-toxic and Strong coagulating performance for water purifying.
Improves retention of wet end functional additives including sizing agents dry strength additives, dyes, pigments and fillers.
Fixes wood pitch and synthetic stickies to fibers.
Enhances drainage for energy savings in sheet forming, pressing and drying.
Decreases white water solids to improve raw material yield and saveall efficiency.
Performs over a wide pH range with or without the use of papermakers.
Maintains cationic charge in alkaline, acid and neutral papermaking systems.
Improves paper machine output and runnability for maximum return on investment.
Contains no VOC or surfactant components to harm the environment.
BLUWAT PolyDADMAC Specifications:


| | |
| --- | --- |
| Technical Name: | Polydimethyl-dislkelen-ammonium Chloride / Polydadmac |
| Appearance: | Colorless, Transparent Colloid |
| Viscosity: | 1000cps-80000cps |
| Solid Content: | 20% or 40%min. |
| PH (30% solution): | 3 - 7 |
| Ionic Nature: | Cationic |
| Specific Gravity: | About 1.1 |
BLUWAT PolyDADMAC Applications:
Applied as polymer coagulant and flocculant for water treatment in many industries
Promoter in paper size process
Cationic runnability aid for the papermaking process
BLUWAT PolyDADMAC Packing: High viscosity grade, 125kg/plastic drum Low viscosity grade, 210kg/plastic drum, 1,100kg/IBC Drum