Dyeing Water treatment Decoloring Agent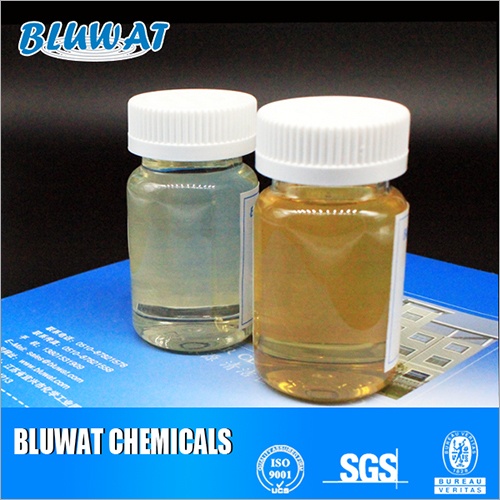 Dyeing Water treatment Decoloring Agent
Price And Quantity
Ton/Tons

600.00 - 1800.00 INR
Product Description
As a well known firm in this domain, we are engrossed in providing quality assured Dyeing Water treatment Decoloring Agent to our valuable clients. The offered agent is widely cherished among clients due to its precise composition. This agent is processed with the use of optimum grade chemicals by our adept professionals at advanced processing unit. Finding usefulness in mining, textile, printing and paper industries, the provided Dyeing Water treatment Decoloring Agent is used to remove color.

Key Points:

Known for purity

Non flammable

Enhanced shelf life

Soluble in water
Product Name:

BWD-01 Water Decoloring Agent

Component:

Dicyandiamide-formaldehyde Resin

Solid Content:

50%min

CAS No.:

55295-98-2

Brand:

Bluwat

Other Name:

Color Removal Chemical;
Decolorant;
Decolorization Chemical;
Dicyandiamide-formaldehyde Resin Flocculant

Application:

Waste Water Color Treatment

Decolorization:

50~99%

Sample:

Free to Test

Certificates:

ISO, SGS
What is BWD-01 Water Decolorant Agent?
The colored effluents, generated by the industries, when left untreated, play havoc with reusable water resources. For process houses, in water scarce areas, it comes as a heaven-sent facilitating recycling of the industrial effluent into process water. BWD-01 Water Decoloring Agent is used to solve this problem.
BWD-01 Water Decoloring Agent has high color removal of dye wastewater, by providing a large number of cations, the negative charge is brought on dye molecules are neutralized instability, at the same time with BWD-01 Water Decoloring Agent by a large number of hydrolysis of flocs. Can be adsorbed dye, destabilization of the snare, from water separation, so as to achieve the purpose of bleaching.
BWD-01 Water Decoloring Agent is specially working high performance with the dyeing wastewater containing the hydrophilic dyes (reactive dyes, acid dyes, disperse dyes etc.), less dosage, the color clear, fast speed, high processing liquid clarification of the settlement, but also reduce the composition of COD, improve the COD removal rate.
To reduce the costs of color wastewater treatment, suggested to use polyaluminium chloride together, can reduce the dosage of BWD-01 Water Decoloring Agent.
Soluble in water, safe, non-toxic, hydrolytic stability, is not sensitive to the change of pH value, anti-chlorine. Harmless, no-flammable and non-explosive, it can be stored at room temperature, it cannot be placed in the sun. It is slightly acidic, when skin contact, wash immediately with plenty of water.
What is BWD-01 Water Decolorant Agent Used for?
Mainly used for Color Removal and COD Reduction for wastewater from textile dyeing & printing mills, dyestuffs & pigment mills, ink & paper making mills.
Suitable to treat waste water with Reactive dye, Acid dye, Disperse dye, Direct dye, Sulphur dye, Vat dye etc..

Can be used in the production process of Paper & Pulp as Retention Agent.
What is the Advantage of BWD-01?
Strong decolorization ( 80%~99%) and removal of COD ( 50%~80%)

Faster sedimentation, better flocculation, fewer sludge.

Non-pollution(no aluminum, chlorine, heavy metal ions etc.
BWD-01 Water Decoloring Agent Specifications:

Items:

BWD-01 Water Decoloring Agent

Appearance:

Colorless or light-color sticky liquid

Dynamic viscosity (cps,20C):

50-250 M PA. S (20 C )

pH (30% water solution):

1.0~3.0

Solid content %:

50 % min

Application Case:

A. When have biological treatment first and after they make chemical treatment.

B. When the treat first by chemicals, then the usual dosages are:




Test and adjustment the pH of the effluent to 8-9




First we apply the PAC (contact time 3-5 min with the waste water), after then BWD-01 Water Decoloring Agent (contact time 5-10 min), and after then anionic polyacrylamide.




It will give too much economy if we'll adjust the pH 8-9, otherwise the consumption of BWD-01 will be ~20% higher.

Dosage:

50-80 ppm BWD-01(raw)

80-100 ppm BWD-01(raw)

15-20ppm Polyaluminum Chloride(solid)

15 -30 ppm PAC(solid)

1 - 2 ppm Anionic polyacrylamide(solid)

1 - 2 ppm Anionic polyacrylamide(solid)
Packaging & Shipping
Package and Storage:
It is packaged in plastic drums with each containing 30kg, 50kgs, 250kg, 1250kg , or others according to the requirements of clients.