Cationic Polyacrylamide Powder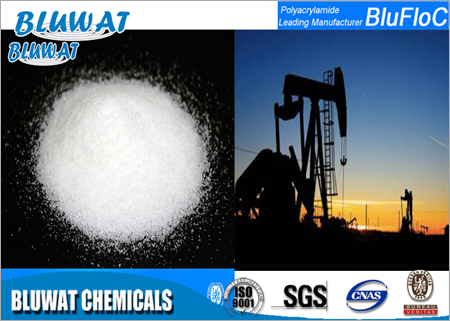 Cationic Polyacrylamide Powder
Price And Quantity
Metric Ton/Metric Tons

1000.00 - 3000.00 USD ($)
Product Description
Available in powder form, the Blufloc Cationic Polyacrylamide is easily dissolvable in water. This polymer is available with different charge density and molecular weight range.

This product is sometimes used for dewatering of slurry, purification of water, to enhance the standard of flocculation of particles found in water and for promoting quick setting of suspended solid particles.

This synthetic chemical is available in different configurations to meet various job requirements.

Advantages

Outstanding dewatering capacity even at minimal dose. Its unique composition assists to minimize 98% water content of mud cake to 70%.
Apart from its higher amount of solid particles holding ability, this product helps to raise material passing rate and enhances solidity of cake.
It easily dissolves in water and is convenient to use.
Free from corrosion if applied in suggested amount. It is available at affordable price range.
Compatibility with different ph range.
Applications

Raw Water Treatment:
Clarification
Recovery of water and dewatering of lime alum sludge
Flocculation
Industrial Waste Water Treatment:
Basic Clarification
For the treatment during tertiary and secondary stages
For dewatering of slurry and for making sludge thick
For the elimination of color
Dissolved Air Floatation
Sewage Treatment:
Preliminary level of treatment
Dewatering and thickening of sludge
Process Industries:

Paper Making: Resident Agent, Retention, Water Recovery, Wet Strengthening Agent
For settling of mud during sugar production
Chlor-alkali: for clarification of brine
Thermal Power: Purification of Scrubber Water
Mining & Metallurgy: Making tailings thicker and for recovery of water
Petroleum and Gas Field:
For the treatment of sewage water
Typical Products and Properties
Products:

Solid Content:

Effective pH:

Bulk Density:

Molecular Weight:

Charge Degree:

C8005

89% min

2.0-9.0

0.8-1.0

Medium High

Very Low

C8010

Medium High

Low

C8015

Medium High

Medium Low

C8020

Medium High

Medium

C8025

Medium High

Medium

C8030

Medium High

Medium High

C8040

Medium High

High

C8050

Medium High

Very High

C8060

Medium High

Ultra High

C9010

High

Low

C9020

High

Medium Low

C9030

High

Medium

C9040

High

High
Applications
It is advised to dissolve this chemical in 0.1%-0.5% amount in water prior to use.
The prepared solution need to e stored in enamel, plastic or fiberglass containers. It is suggested not to use metal container for its storage.
The suggested amount depends on different test results of laboratory.
Package
We are offering this chemical in 25kgs amount packed in PE or Kraft bag depending on the exact requirements of customers.
Storage
This chemical ought to be stored in suitable containers and it should be placed in cool and dry area which is away from direct sources of flame, heat, humidity and sun rays.
It can be stored for 2 years.