Blufloc Polyacrylamide Emulsion Series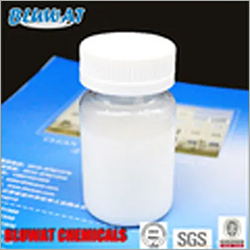 Blufloc Polyacrylamide Emulsion Series
Price And Quantity
Metric Ton/Metric Tons

1000.00 - 3000.00 USD ($)
Product Description
Blufloc Polyacrylamide Emulsion Series
Technical Specification
BLUFLOC SERIES FOR MINING
POLYACRYLAMIDE EMULSION WATER IN OIL SOLVENT


CHEMICAL NAME:

Polyacrylamide Emulsion

DESCRIPTION:

BLUFLOC series polyacrylamide emulsion EMA66 is water in oil solvent type, water-soluble polymer with high molecular weight and medium charge density. It is special designed for Alumina production process such as washing, separation and sedimentation.

ADVANTAGES:

Special design for mining application.
Endure high temperature and salinity, strong acid and alkali ore plup
Promoting the solid sink down rapidly
Economical to use - lower dosage levels.
Easily soluble in water; dissolves rapidly.
Excellent fluidity, easy to handle.
Perform well over a wide PH range.

APPLICATION FIELDS:

It applies to mineral smelting industry, such as red mud settlement in the process of bayers method and sintering method to produce alumina, and wet method to smelt non-ferrous metal like zinc, lead and copper; it may satisfy different material falls and different feeding equipments, for example, flocculant with negative charge in NT-L product used in alumina industry may make electricity in red mud neutralized, make micro particles quickly take off and make flocculant condensation group settle; dosage is usually 0.2~0.6KG/T dry red mud and specific model shall be determined by experiments. It applies to slurry treatment, concentration and filtering links of phosphate; it applies to the concentration, filtering, centrifugal dewatering of coal washing industry; it applies to the process of the treatment of mineral processing wastewater for manganese ore and the crystallization settlement of manganese sulfate.
TYPICAL PROPERITIES:
| | | | |
| --- | --- | --- | --- |
| Products | Type | Molecular weight | Charge Degree |
| EMA66 | Water in oil solvent | High | Medium High |
| EMA88 | Water in oil solvent | High | Medium High |
| EMA 99 | Water in oil solvent | High | Medium High |
APPLICATION:

Suggested to dilute to the concentration of 0.05%-0.5% solution before use.
Use plastic, enamel, fiberglass containers to storage the solution, do not use metal containers.
Avoid centrifugal pumps for polymer transfer
Agitate thoroughly via a low RPM
The dosage is based on different lab test results.

PACKAGE:

Packed in 1000kg IBC tank or 200kg plastic drum or 25 kg barrel.

STORAGE:

Emulsions must be stored inside a building at a constant temperature between 5C and 30C.
Keep in a dry place and avoid be contaminated by water.
Please refer Technical Data Sheet, Label and MSDS for more details and shelf life.