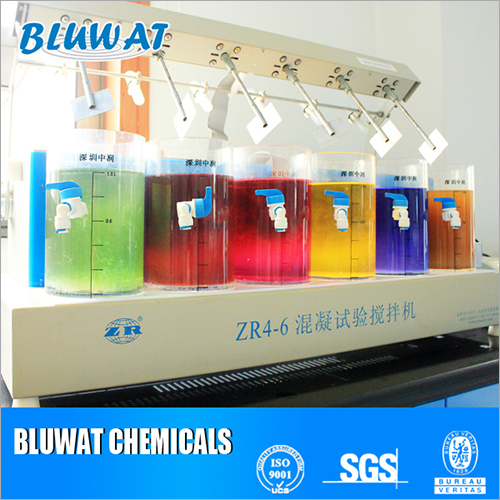 Industrial Wastewater Treatment Chemicals
Price And Quantity
Ton/Tons

600.00 - 1800.00 INR
Product Description
Leveraging on our adroit team of professionals, we are able to offer premium quality industrial wastewater treatment chemicals. The provided chemicals are packed in containers of several sizes according to demand of our clients. These chemicals are suitable to be used for the waste water treatment in several industries such as chemical, textile and printing. Apart from this, the offered industrial waste water treating chemicals can be purchased from us at economical rates.

Key Points:

Purity

Optimum chemical property

High effectiveness

Non hazardous
BLUWAT Water Treatment Chemicals Prodcuts
BWD-01 Water Decoloring Agent , for color removal for textile dyeing wastewater treatment and for other wastewater .
Poly Aluminium Chloride(PAC) , for drinking water treatment for wastewater treatment.
Polyacrylamide (PAM)/Polyelectrolyte , for water treatment, for suldge treatment.
PHPA(Partially Hydrolyzed Polyacrylamide) For Drilling , for drilling mud additive in the oilfield.
Ferric Sulphate , for drinking water and wastewater treatment.
PolyDADMAC , for water treatment and for paper mills and for cosmetics.
Polyamine, for water treatment, textile effluent treatment.
BWD-01 Water Decoloring Agent
Our Dye Wastewater Treatment chemcial - BWD-01 WATER DECOLORING AGENT is highly efficient decoloring flocculant applied in the treatment of effluent from dyestuff printing and dyeing . The COD removal rate of it is 50%~99% and the chromaticity removal rate is 60%~80%.
Main Components:

Cyanoguanidine Polymer

Application Fields:

Mainly used for color removal treatment for high-colority effluent from textile dyeing & printing mills, dyestuffs & pigment mills, ink & paper making mills.

Suitable to treat waste water with Reactive dye, Acid dye, Disperse dye, Direct dye, Sulphur dye, Vat dye etc..

Can be used in the production process of paper & pulp as retention agent.

Advantages:

Stronger decolorization ( 50%~90%) and removal of COD & BOD( 80%~99.9%)

Faster sedimentation, better flocculation, fewer sludge.

Non-pollution(no aluminum, chlorine, heavy metal ions etc.)

Specifications:

Items:

BWD-01

BWD-03

Appearance:

Colorless or light-color sticky liquid

Dynamic viscosity (cps,20°C):

50-300 M PA. S (20 °C )

pH (30% water solution):

1.0~3.0

3.0~5.0

Solid content %:

50% min


50% min


Note:We can produce according to customers different requirements.

Package & Storage:

It is harmless, no-flammable and non-explosive, it can be stored at room temperature, it can not be placed in the sun.

It is packaged in plastic drums with each containing 30kg, 250kg, 1250kg , or others according to the requirements of clients.

Storage temperature: 5-30°C.

The product would show slightly stratification or appear white at low temperature. There is no negative impact on the performance after mixing up.
Application Method:

Make solution of BWD-01, mix with 40 times water to have 2.5% solution for use.

Make PAC solution, 1-3% Al2O3

Have solution of anionic Polyelectrolyte, 0.1%.

Have effluent, test pH value, adjust pH value to 8-9.(It is very important, higher or lower pH, BWD-01 works not well)

Add PAC solution, mix with effluent completely. about 1-3 minutes

Add BWD-01 solution, mix with effluent completely, about 5-10 minutes

Add small content of anionic polyelectrolyte solution, mix slowly to have big floc. (this step is suggestion)

Sedimentation

Check color for treated effluent

Adjust dosage of BWD-01 and PAC to do more test to have better testing result.